The freedom to bathe without fear, pain, or exhaustion is one of my highest priorities for every client I work with.

In fact, as an Occupational Therapist, helping someone with complex challenges of bathing for the first time following a traumatic event or surgery is one of the fulfilling activities that I could accomplish.

One of the most important steps in helping overcome the challenges of bathing is having good, accessible shower seating.

Choosing shower seating can be overwhelming. This guide covers the different types of shower seating and why you would choose them. Each type of shower seating is described along with their benefits. The guide also contains some videos about installation and use of some of the types of shower seating as well.
Let's get started!
What are the different types of shower seating?
There are a variety of different shower seating, but they generally fall into five categories:
Where to buy shower seats?
Some shower seats are available online through major retailers like Amazon and Walmart. However, some types, like specific kinds of rolling shower chairs or designer folding shower seats, may only be available directly through the manufacturer or through a medical distribution company, especially if you qualify for this equipment through your insurance.
Where to Buy a Shower Seat? Tip: Loans
If you have a limited budget or are only going to be using a shower seat for a short period of time, shower seats are often available in the U.S. through your local loan closets through religious organizations, area agency/commission on aging (like county), or Veterans Affairs.

Always check the condition of the equipment that you receive from these organizations to ensure the safety of the equipment before you install or use it.
What About Shower Seats Built into Tile or Granite?
A lot of people have questions these days is about shower seats that are built into tile or granite showers (or other materials). Below is an example of a built-in shower seat:

A common question is:
How safe are shower seats built into tile or granite?
Built-in shower seats are safe as long as they are designed and installed correctly.

The concern with the shower seats is less safety and more flexibility and convenience. Built-in shower seats are a fixed height, so they cannot be adjusted if you have a situation where the height of the shower seat is not conducive to your needs.
Built-in shower seats often occupy a lot of space in a shower as well. While this may not be a problem initially, it can limit the options for additional safety equipment should you need that in the future. Some medical safety equipment, such as tub benches, require a lot of space. You may not be able to use these options if your built-in shower seating already takes up a lot of space in your shower.

In addition, built-in shower seats have limited design options. A removable shower seat has a lot of options as far as size, shape, color, and material, making them great options for a variety of shower and tub types.
The Different Types of Shower Seating
Transfer Bench
Tub transfer benches have been a staple for adaptive bathing for many years. The key value of a transfer bench is its ability to create a safe transfer surface over the edge of a tub. This saves the user from having to make the precarious step over a tub edge. They come in a variety of styles including the standard, sliding and even a tub mounted style.
Tub/Shower combination
Non-weight bearing (with any threshold present)
Balance or strength deficits
No grab bars present
Videos about Tub Transfer Benches
We have a lot of videos about assembling, installing, and using a transfer bench if you would like more information about them.
Standard Shower Chair
A standard shower chair is the second most commonly used piece of bathing equipment. The standard shower chair is small, price effective, and provide an excellent fall prevention and energy conservation tool. The shower chair will work in most bathroom spaces but will NOT provide support for the transfer process.
Small bathroom or shower space
Endurance or strength deficits but transfer ability is less of a concern
Grabs bars are availability for supportive transfer
Zero or minimal barrier shower design
Confused about whether to use a shower chair or a transfer bench? I created a helpful video comparing the two solutions and how to select a shower seat.
Shower Stool
A shower stool is within the same category as a standard shower chair but provides a much smaller footprint for value in small shower spaces. This piece of equipment has maximum value in spaces that cannot accommodate a bench or other chair type. What they lack in size they make up for in convenience.
Small space
Frequent removal or storage
Multi-generational household
Intermittent usage needs
Variable condition
Greater availability of designs
Folding or Hanging Shower Seat
The folding or hanging shower chair option is excellent for individuals who are looking to create an accessible designed shower. The installation process will be semi-permanent and therefore will require the planning and availability of proper support behind the wall. This consideration is best made during the construction process, but with the help of a reputable contractor, these can be added to a shower space for a space saving and attractive seating option.
Designing an accessible shower during construction
Space saving and design friendly
Multiple users
Multiple ability types
Lower barrier or barrier free shower
Rental or public use shower (like the gym)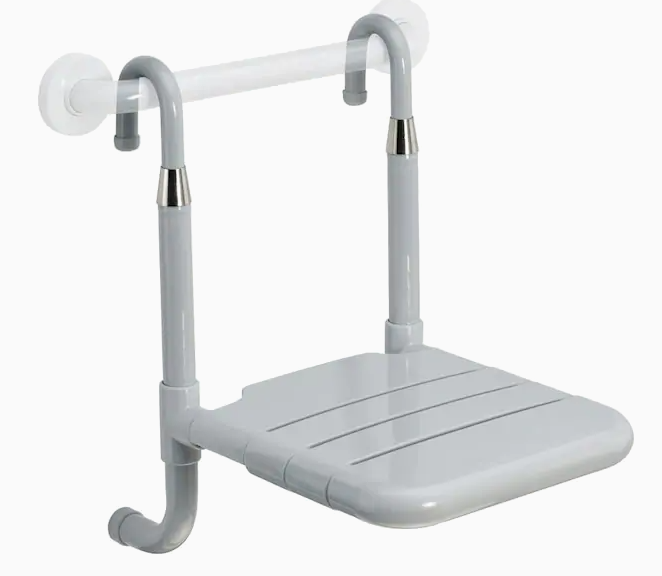 If you would like more information about folding or hanging shower chairs, we have a video available about installing a hanging shower chair:
Rolling Shower Chair
Rolling shower chairs are vital for populations dealing with non-ambulatory or significant balance/muscle control deficits. The ability to transfer onto the chair outside of the shower and be rolled into position benefits the client as well as a caregiver. This will create maximum flexibility of use as these can be rolled over a toilet and be used as a mobile commode solution as well as a shower chair. The prices and varieties of these types of shower chairs ranges greatly and it is important to have your needs evaluated for correct fit and style before purchasing.
Non-ambulatory or poor muscle control conditions
Zero barrier or barrier free shower and bathroom
Degenerative conditions
Combination commode and shower chair
*all prices are at the time of publishing
Note: This post contains affiliate links that provide a small commission without any added cost to the user.
---
More Recent Posts…
How to Get Dressed and Undressed After Shoulder Surgery or Injury

How to Sleep in a Recliner

If you're sleeping in your recliner, you're not alone. Many people find their recliner the most comfortable place to sleep. It's common for people who are recovering from injuries, recuperating after surgery, or suffering from chronic acid reflux to sleep in their recliners. However, sleeping in …

2022 Gift Guide

It's that time of year again! Time for the 2022 EquipMeOT gift guide! This curated list includes a variety of ideas to improve comfort, independence, and safety for you and your loved ones this holiday season! Gifts Shoulder Heating Pad Ice/Heat Slippers Multi-positional Wedge Weighted Sleeping …