Don't feel safe getting in and out of a car? Have you or your loved one given up on beloved activities because of an insecurity with getting in and out of a car?
As an OT in the community, I worked with many individuals who found themselves in this same situation.
My first recommendation to help solve this problem was to implement the use of a car door assist handle. The most popular version of this kind of device is the car cane. This device has existed for many years, works in most vehicles, and provides a simple, cost effective strategy. The device works to improve safety and stability when getting in and out of the car.
The specific product that I chose to demonstrate in my video came with the car door assist handle as well as the additional handle strap. The combination of these simple devices can maximize independence and get folks out into their communities again!
If you prefer a video tutorial, check out my YouTube channel to see both products in action!
Supplies Needed:
A modern car (this product works with most 1990's to present model vehicles)
Steps:
Locate your lock striker plate on the door frame of the car
Insert the car door assist handle into the striker plate loop
Roll door window down
Apply strap of window strap at a comfortable position
Roll window back up with strap and handle inside the car
Place hands on car door assist handle and window strap handle when entering/exiting the car for stabilization
Use a Car Door Assist Handle – Step 1: Locate Striker Plate
Most modern cars (post-1990) have a striker plate with a looped mechanism that looks like this: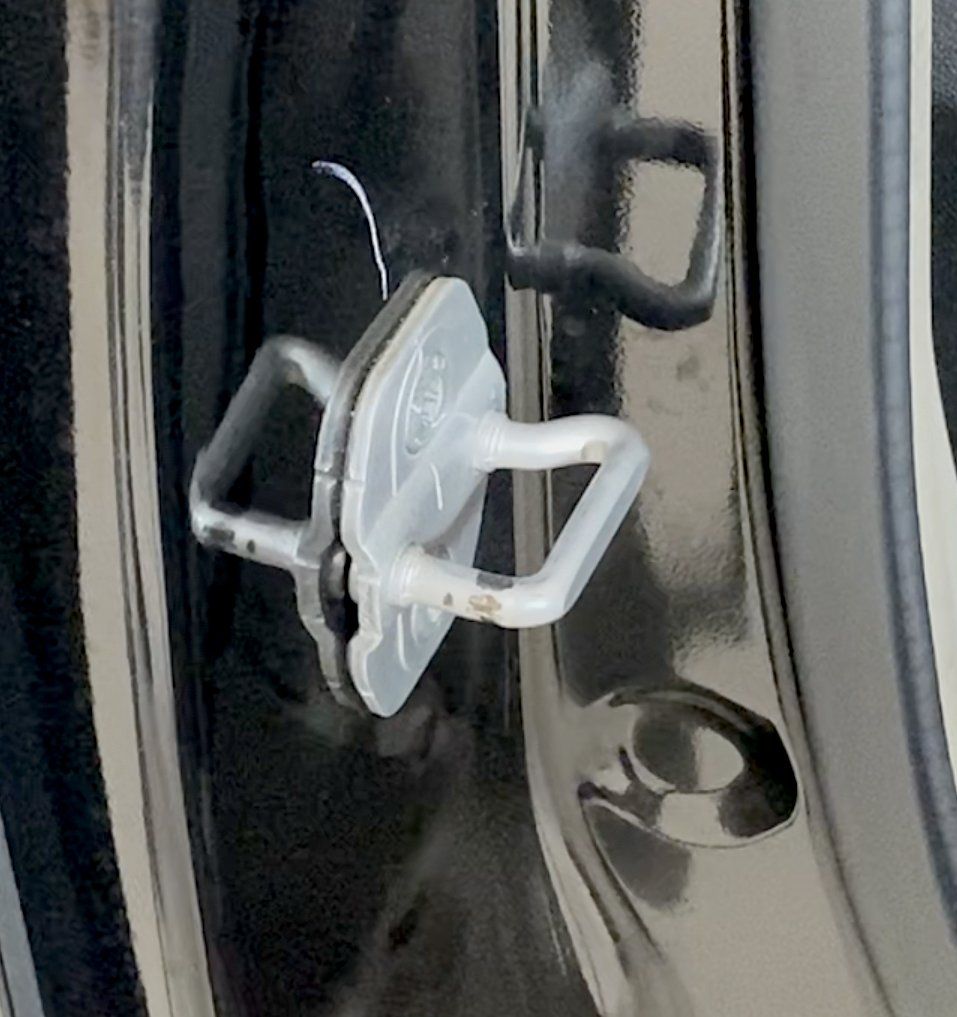 You will need to locate the striker plate on the side of the car that you will be attempting to get in and out of.
Use a Car Door Assist Handle – Step 2: Insert Car Cane into Striker Plate
The stem of the car cane will be inserted into the loop of the striker plate.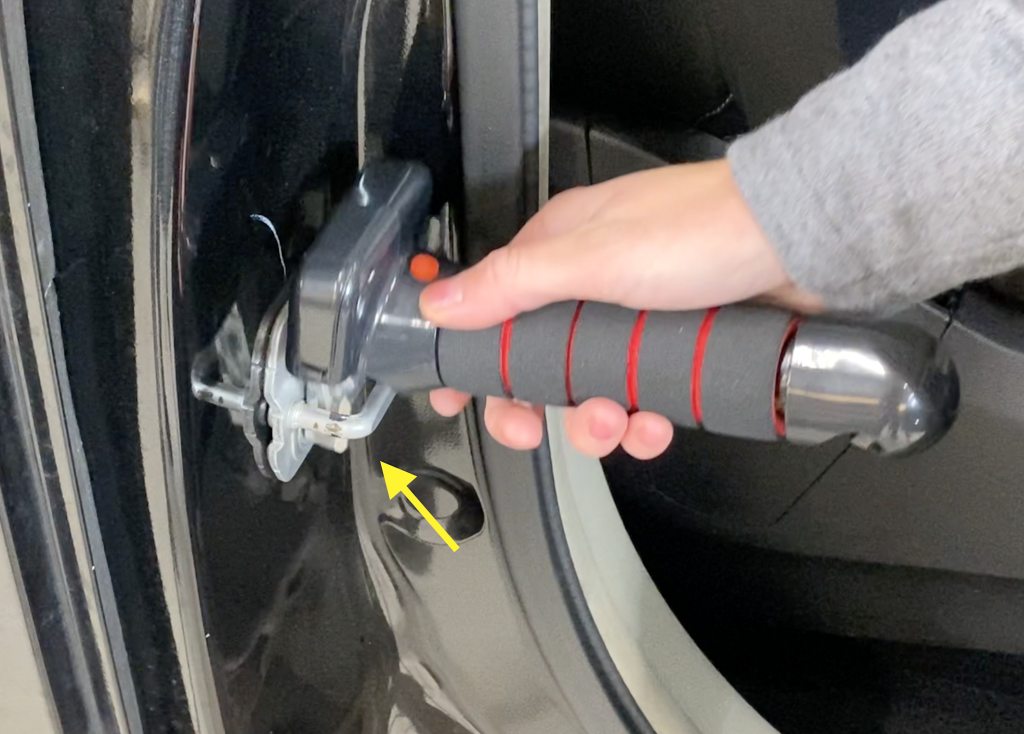 There will be a little bit of side-to-side movement. If you push down the car cane, it will be solid and secure up to 300 pounds per the manufacturers recommendations.
Using a Car Door Assist Handle – Step 3: Roll down door window
If you chose to use the window strap handle in addition to your car cane, there are a couple of additional steps you will need to make.
In our case, we were planning to use the car cane device and window strap on the passenger door of a left-hand drive vehicle (driver on the left-side). In order to clip the window strap into place, you'll first need to roll down the door window.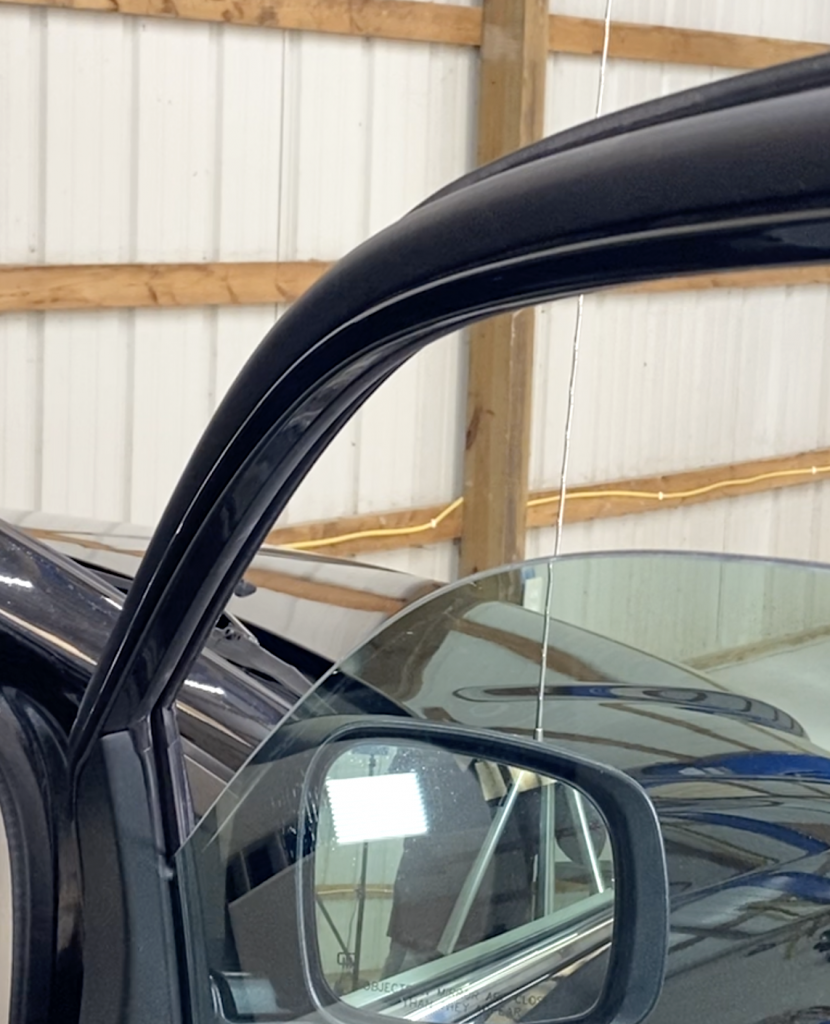 Using a Car Door Assist Handle – Step 4: Clip Window Strap Around Window
Apply the strap with the clip around the open window. You will need to evaluate placement at this time so that the strap is long enough and in a position that can be reached easily from a seated position on the car seat.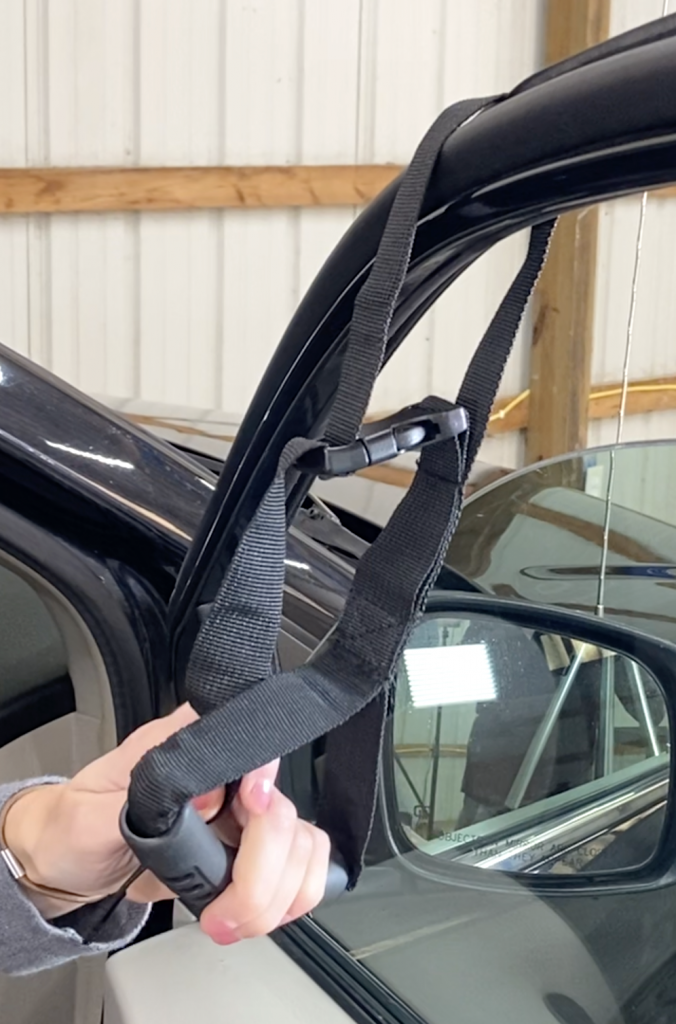 Using a Car Door Assist Handle – Step 5: Secure the Window Strap By Rolling Up Window
Roll the window up with the strap and handle positioned on the inside of the car. The window will need to remain up while using the handle as this will secure it in place.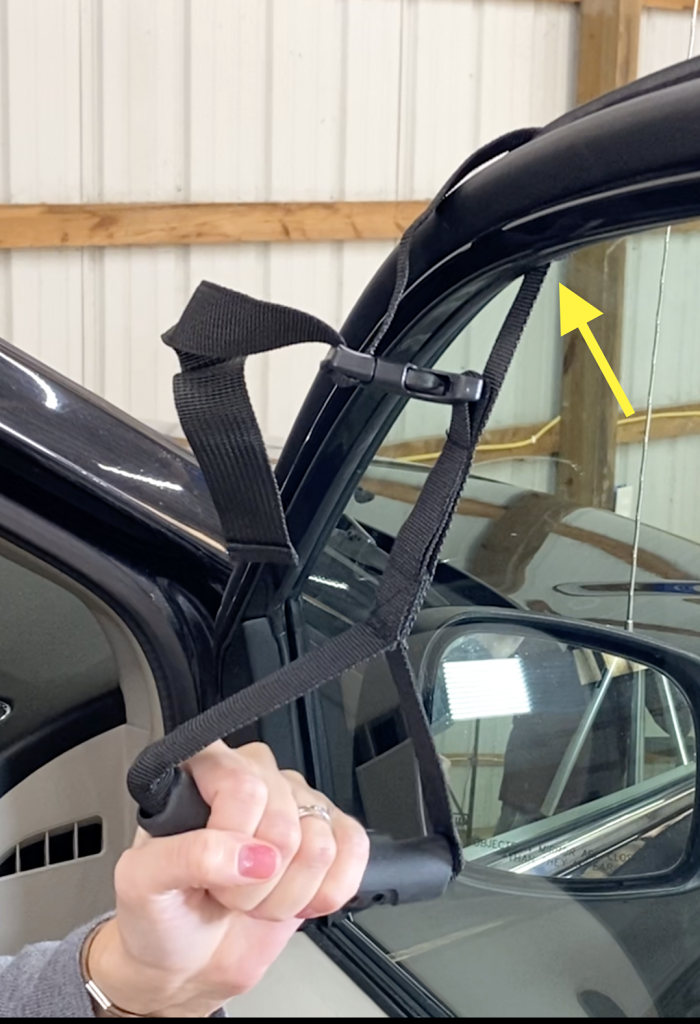 The nice feature of the window strap is that it can remain in place while driving. The car cane must be removed when the door is closed.
Using a Car Door Assist Handle – Step 6:
When you have installed both the car cane and window strap, place a hand on both handles and use it to stabilize or support when getting in or out of the car.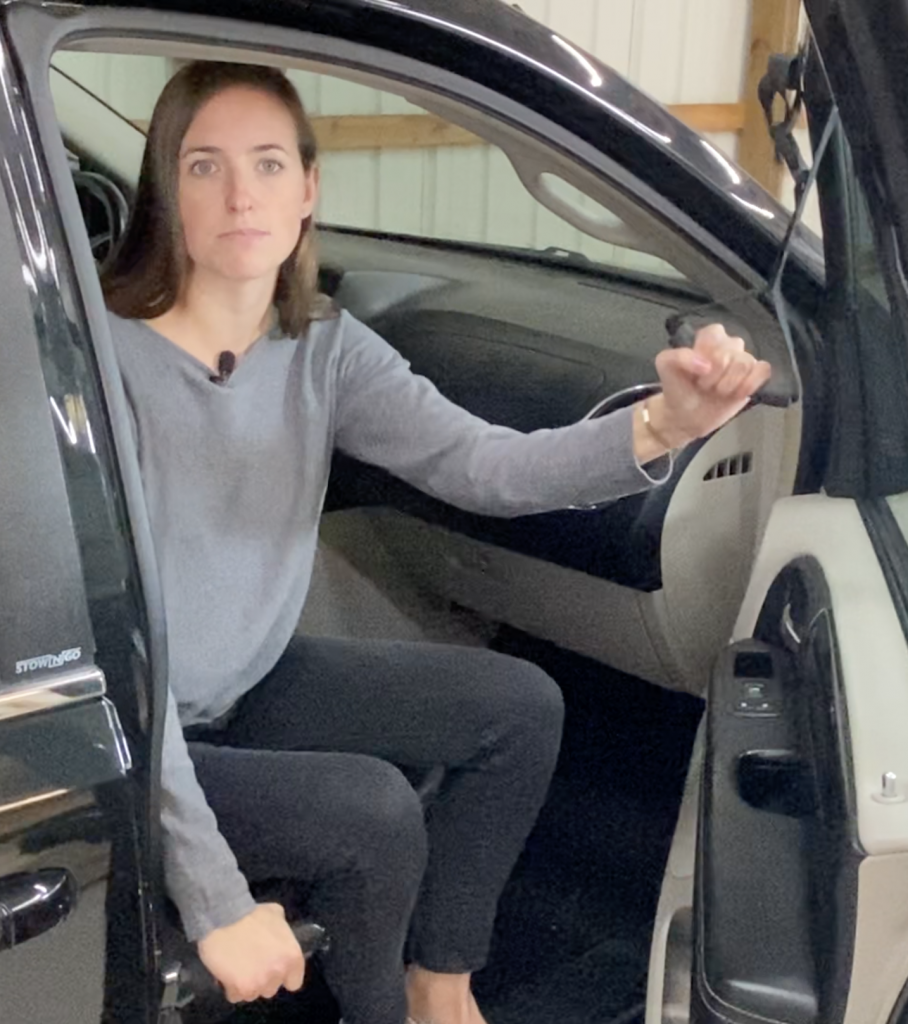 As always, be aware of how your body is positioned in space and ensure you are fully over the seat before attempting to sit in a car. Ensure that both feet are squarely under your body before attempting to stand.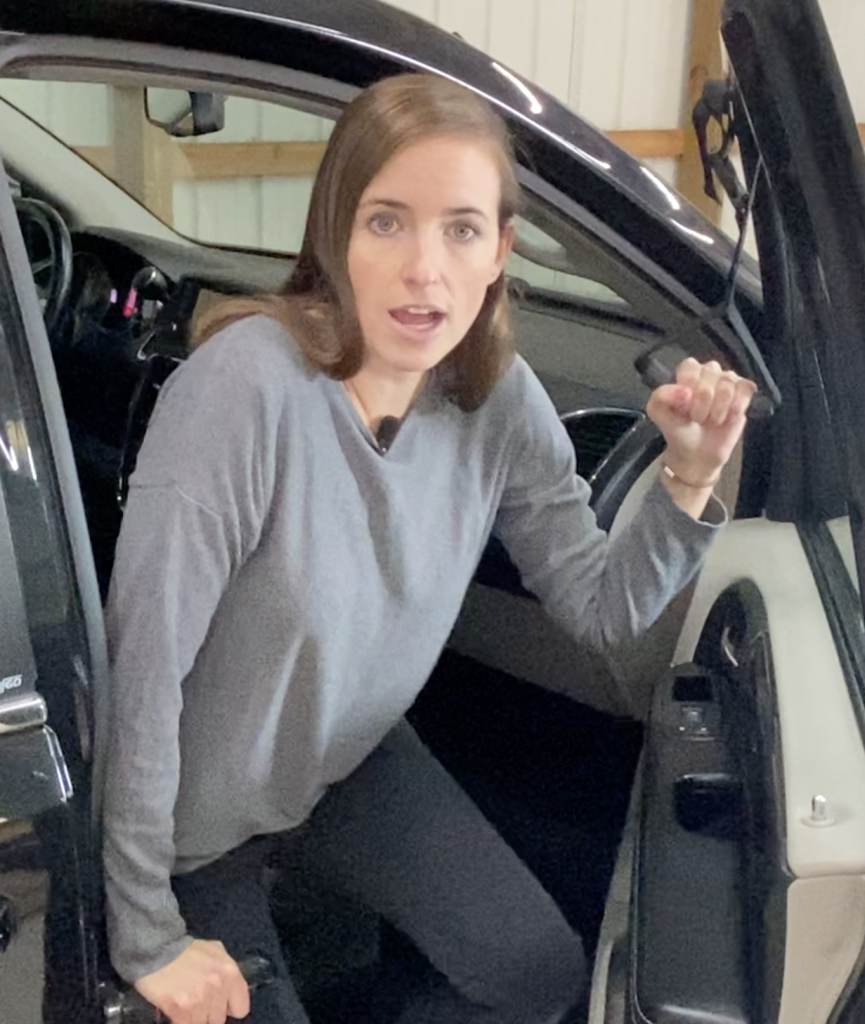 That's it.
Note: This post contains affiliate links that provide a small commission to no additional cost to the user.
---
More Recent Posts…
How to Get Dressed and Undressed After Shoulder Surgery or Injury

How to Sleep in a Recliner

If you're sleeping in your recliner, you're not alone. Many people find their recliner the most comfortable place to sleep. It's common for people who are recovering from injuries, recuperating after surgery, or suffering from chronic acid reflux to sleep in their recliners. However, sleeping in …

2022 Gift Guide

It's that time of year again! Time for the 2022 EquipMeOT gift guide! This curated list includes a variety of ideas to improve comfort, independence, and safety for you and your loved ones this holiday season! Gifts Shoulder Heating Pad Ice/Heat Slippers Multi-positional Wedge Weighted Sleeping …