Getting in and out of bed is one of the top reasons for falls for seniors.
Many of these falls could have been prevented with the addition of adult bed rails. I decided I wanted to provide an overview of how to install and use bed rails for seniors.
The bed rails discussed in this post will focus on improving ease of bed mobility by giving a stable grab point for anyone to use when rolling, pulling up in bed, or transitioning from laying down to sitting up.
There are several different types of bed rails for the seniors. In this guide, I'll specifically address 2 styles of adult bed rails that attach by sliding into position between a box spring and a mattress. These specific bed rails require a box spring and mattress. Below are images of the two styles that we will be installing.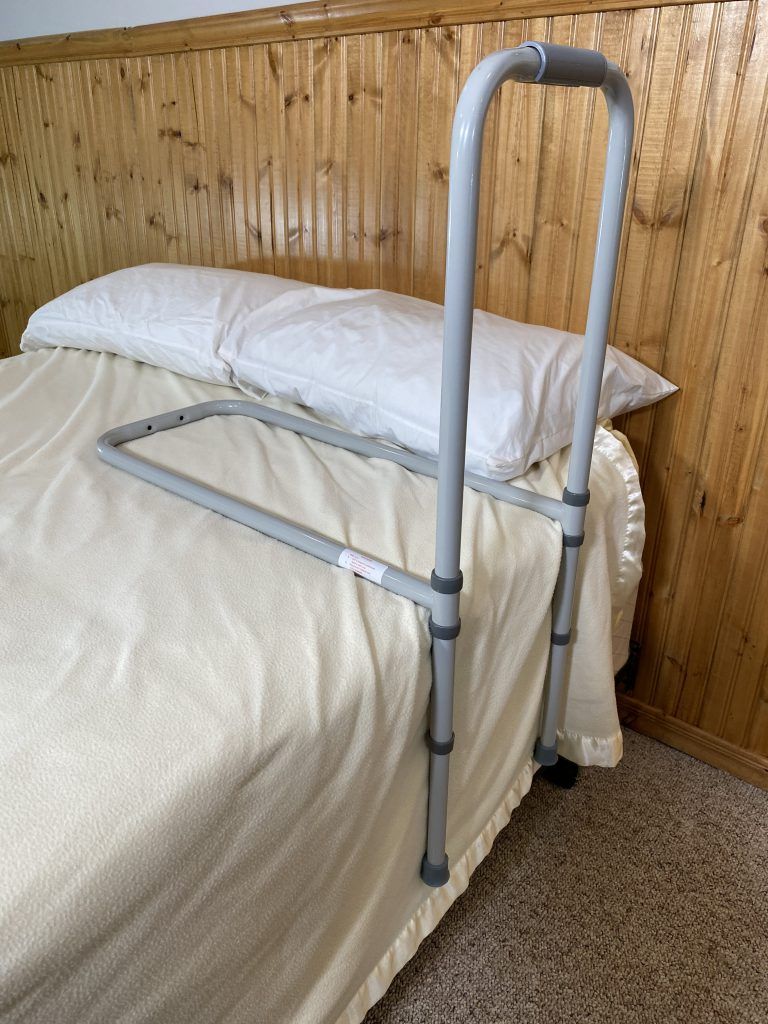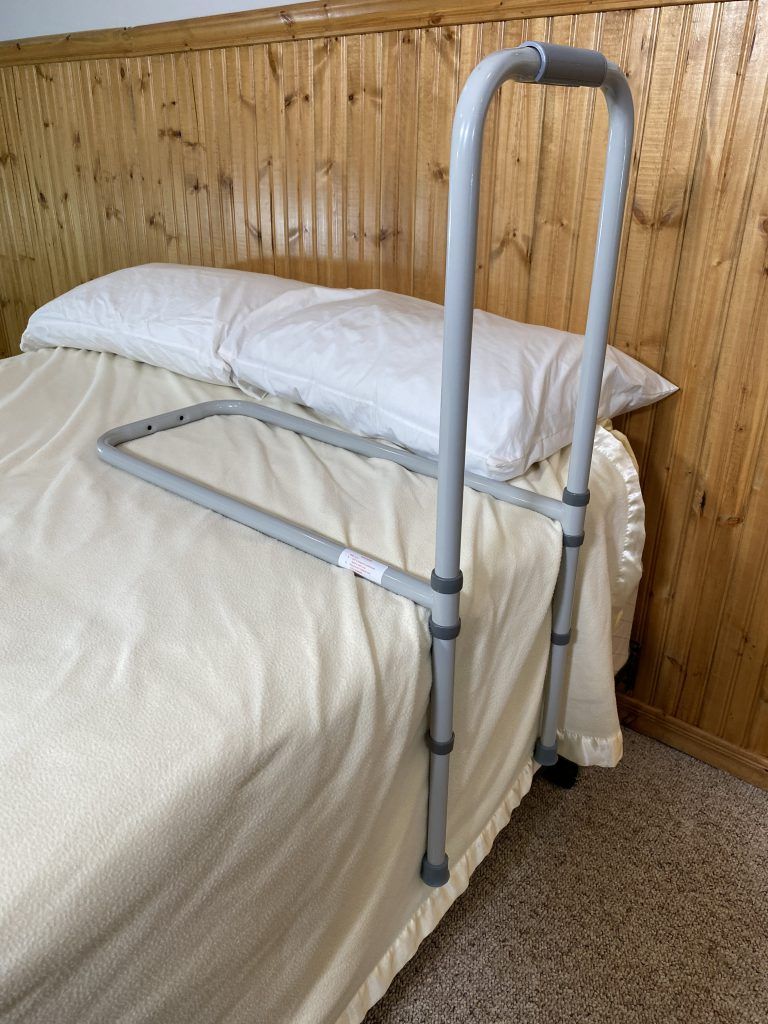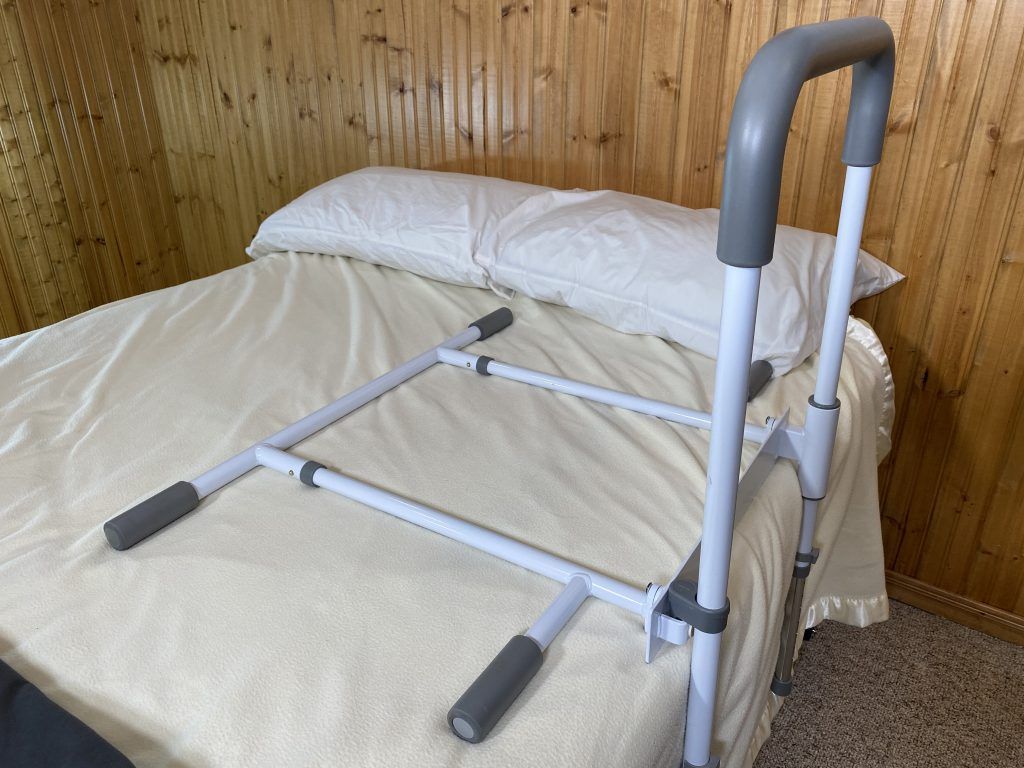 If you prefer a video how-to, please check out my video on my YouTube Channel!
Overview
Estimated Time: 10 minutes
Estimated Cost: $30 USD*
Supplies Needed:
Standard bed rail kit (all necessary installation supplies included)
A "standard" bed rail kit is a bed rail with a fixed arm. Here is a standard bed rail kit from Drive Medical:


The one we will be setting up is called the HandiRail, but it is essentially the same as the Drive Medical one above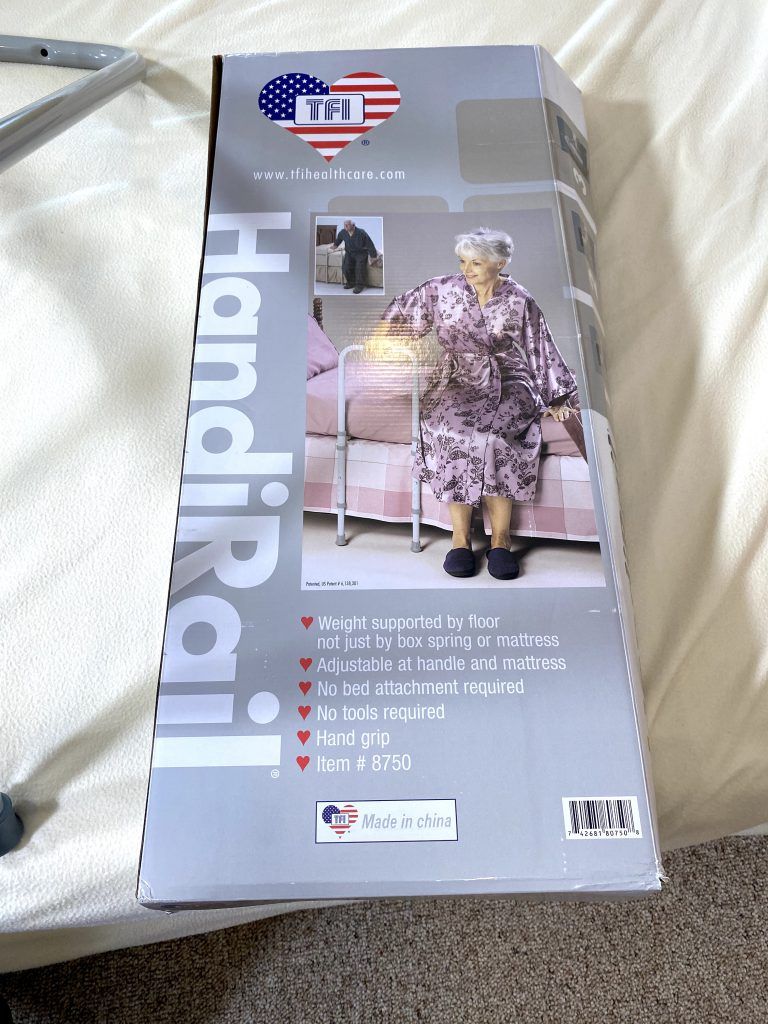 Bed Rail Kit with Swing-Away Arm
Another option for a bed rail is one with a "swing-away" arm. These are more expensive (about $123 USD*), but may offer more flexibility when getting in and out of bed. I will be demonstrating both.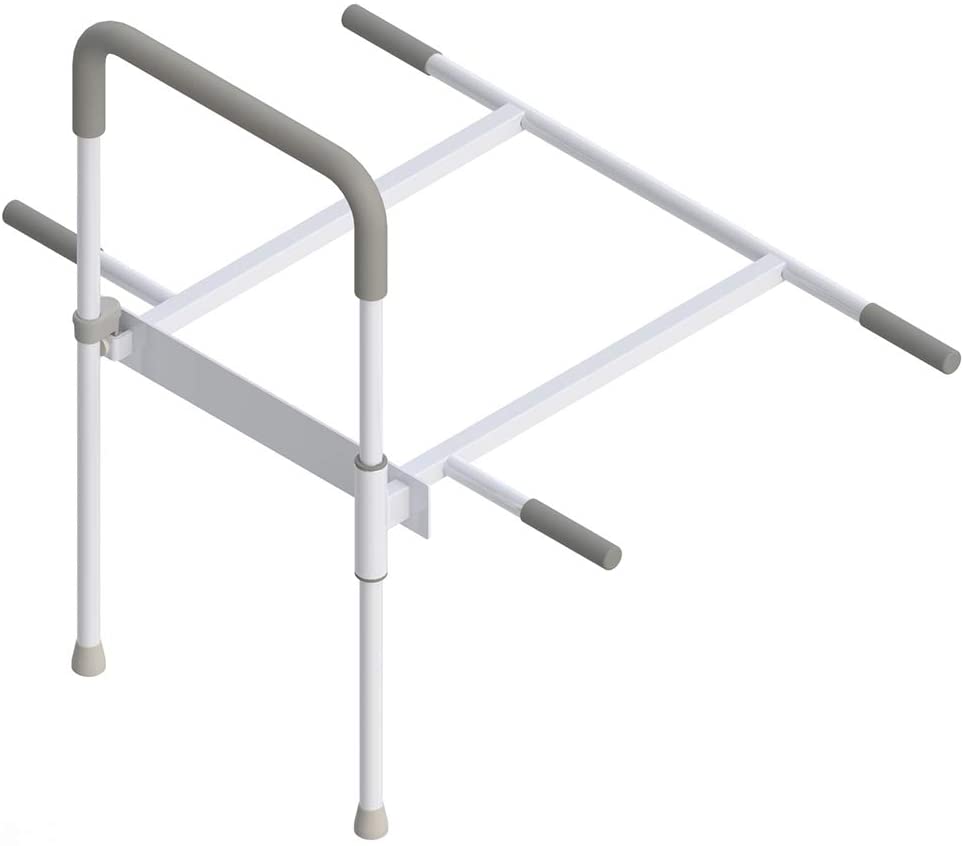 Tools Needed: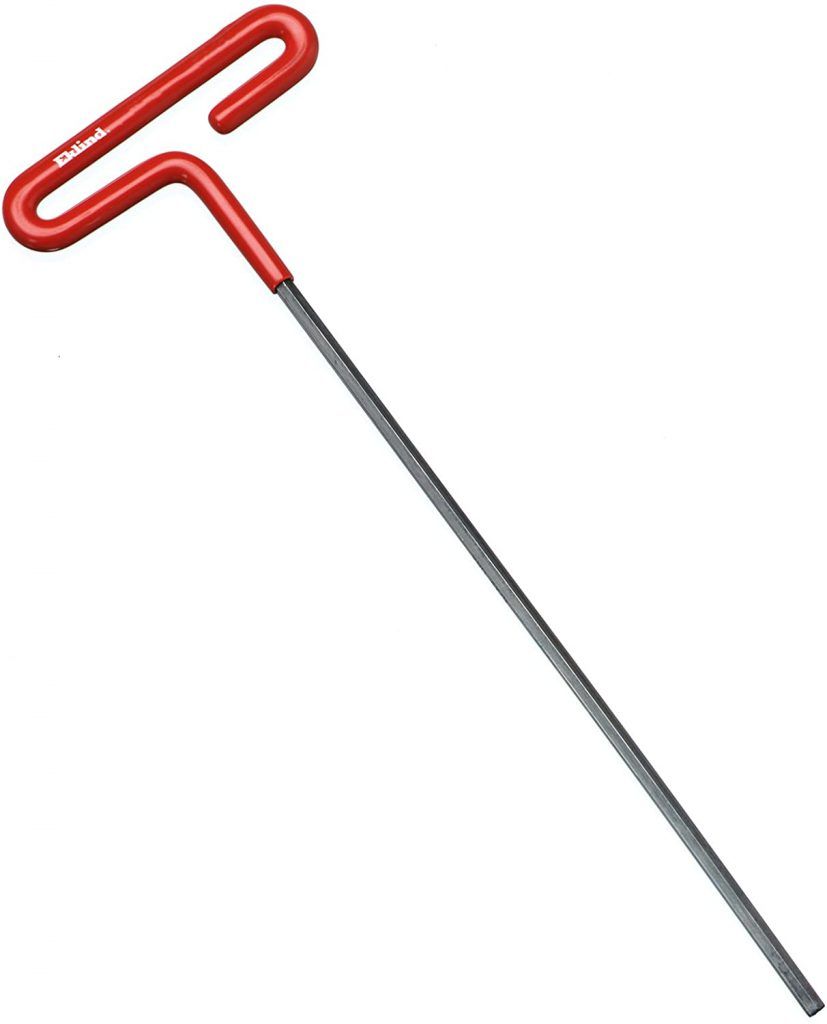 *all prices are at the time of publishing
Steps:
Bed Rails for Seniors – Step 1: Assemble Bed Rail
The first step is assembling the bed rails. Assembling the bed rail will be dependent on the brand/type you select. Most bed rails for the seniors consist of 3 parts: the handle, a piece that slides between box spring and mattress, and the feet.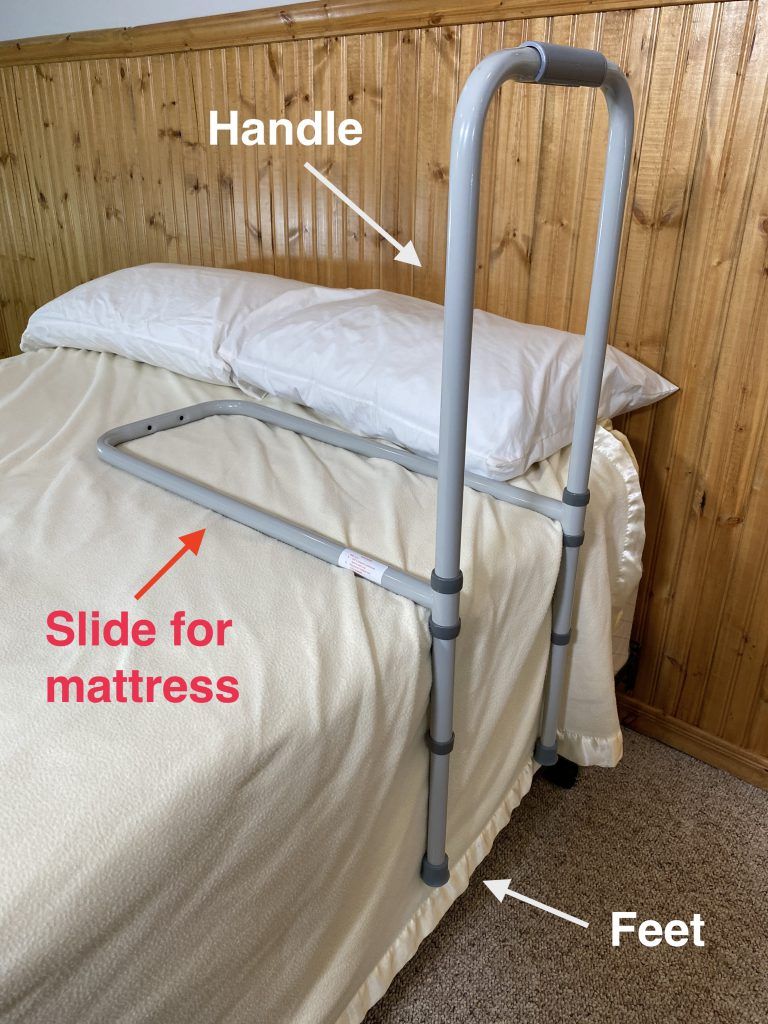 These pieces are typically assembled using push pins. The feet are adjustable so you can match them to the height of the bed. Some adult bed rails also come with additional add-on features like a safety strap or pockets.
The safety strap is an optional add-on that attaches the bed rail to the opposite rail of the bed frame with a buckle for added security. I recommend these especially for bed rails that do not have feet to ensure maximum stability.
Bed Rails for Seniors – Step 2: Position Bed Rail
When positioning a bed rail, it is important to know how you will be using it. I highly recommend positioning it near the head of the bed about the width of a pillow away from the top of the mattress.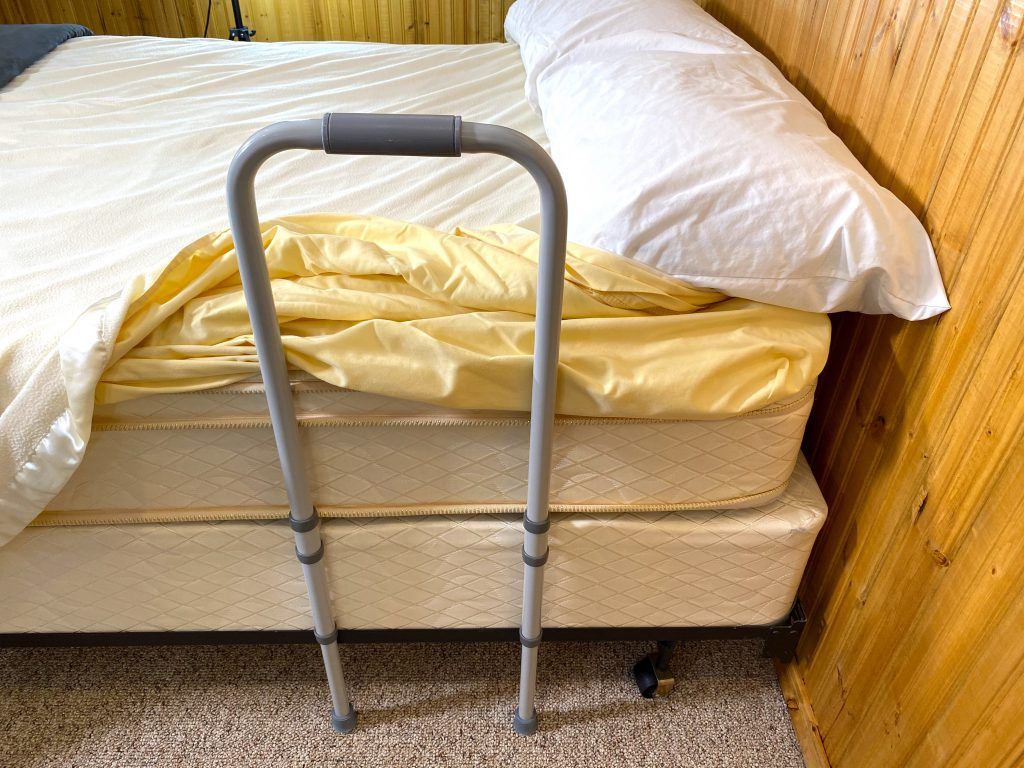 This will ensure that you won't be positioned too far down the edge of the bed when attempting to get in and out.
The second bed rail type (HealthCraft Swing Away Bed Rail) has the feature of a swing-away arm.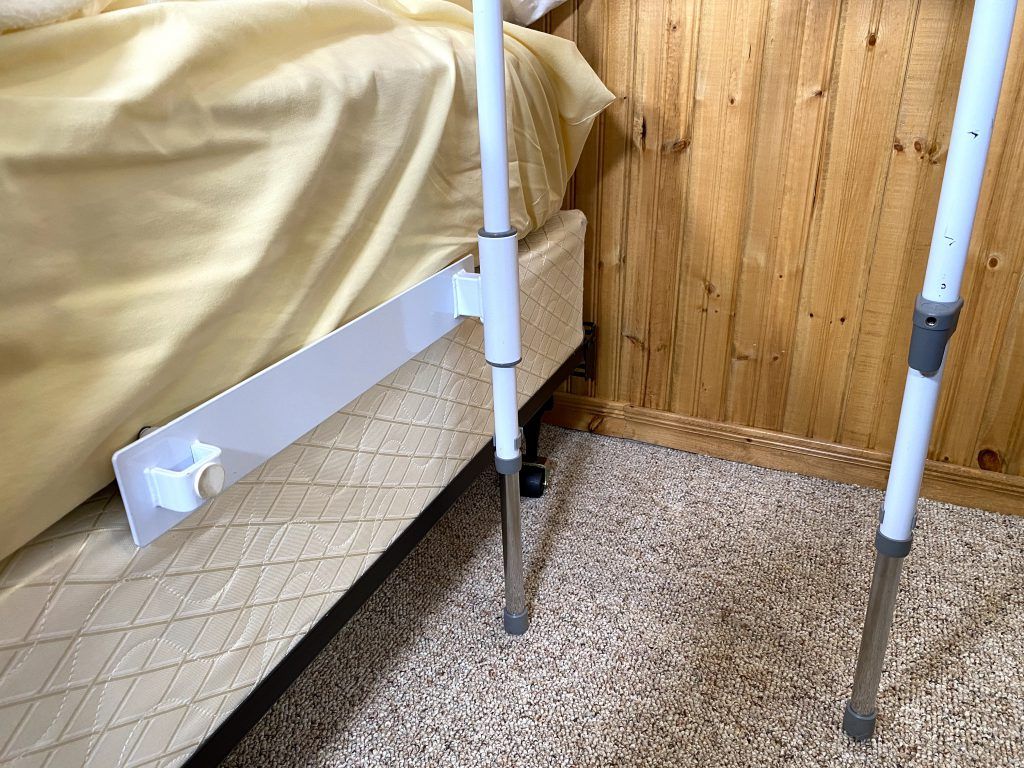 This allows it to be positioned slightly farther down the bed due to the arm being moveable when necessary to get in and out. This is a nice feature if the person using the rail is also a significant fall risk from rolling out of bed. The first option of adult bed rail would not be the best for preventing these types of falls.
Bed Rails for Seniors – Step 3: Push Bed Rail Into Position
Push the bed rail between the box spring and mattress until the handle is tight to the edge of the mattress.
It is important that you avoid a gap between bed rail and mattress to prevent a possible pinch point and ensure it is positioned within easy reach while lying in bed.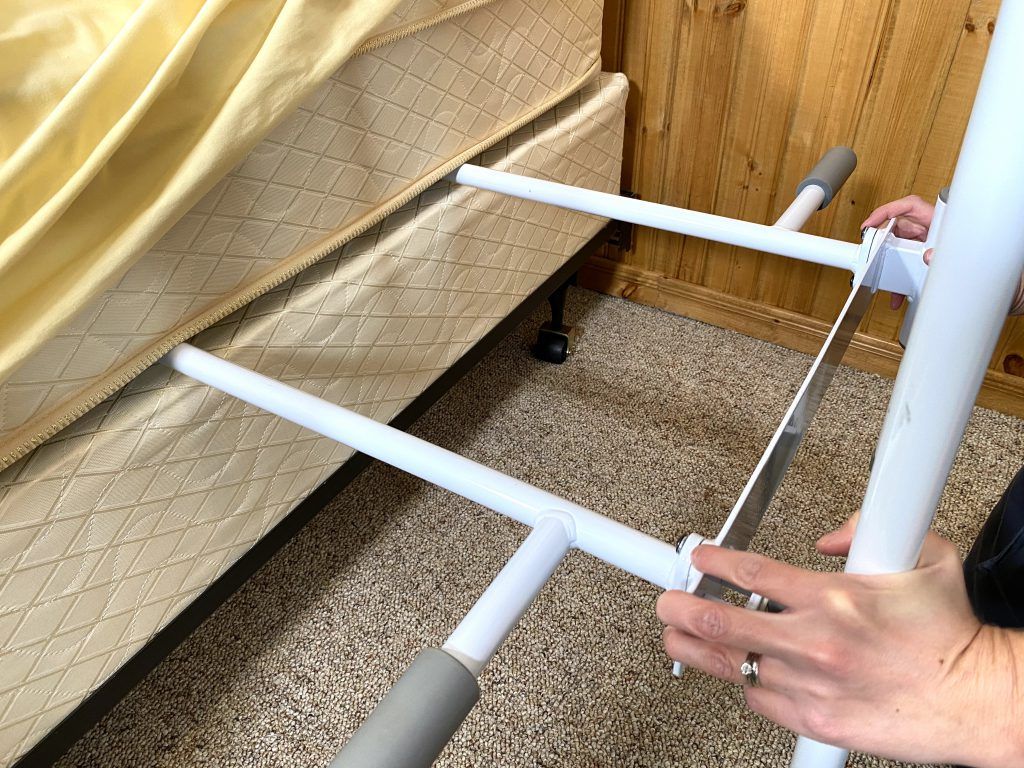 Bed Rails for Seniors – Step 4: Adjust Leg Height
Adjust the height of the legs/feet of the bed rails. The legs on these bed rails will adjust with a push pin assembly. The feet should sit flat on the floor once adjusted to match your bed height.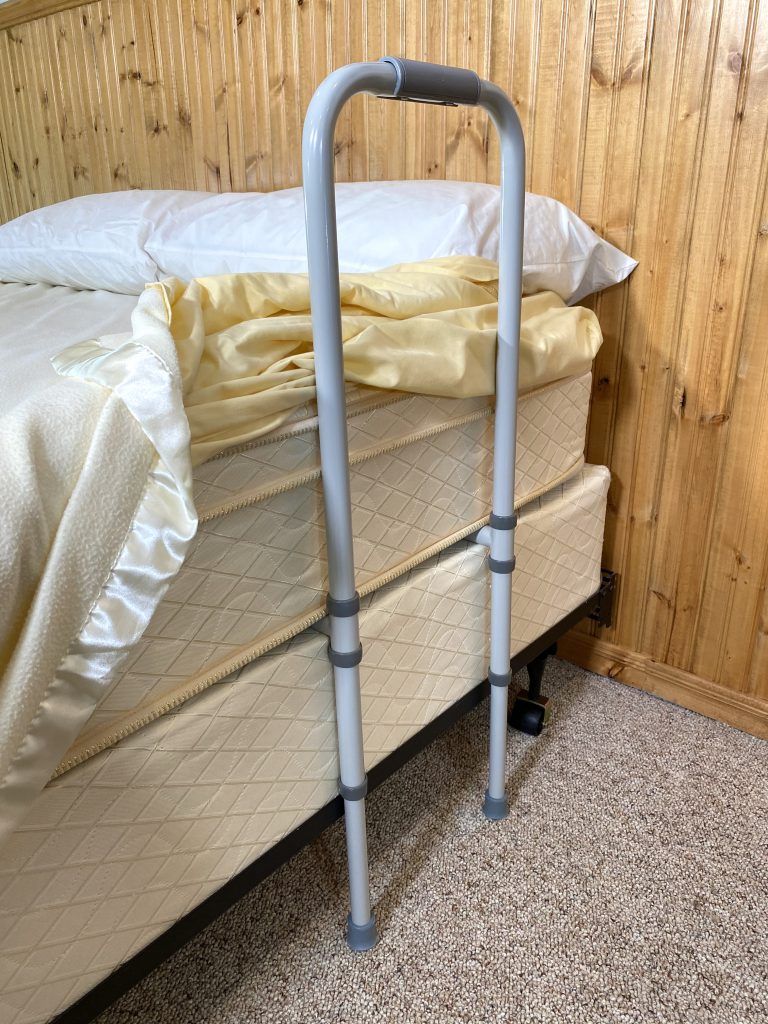 If you have a tall bed, adult bed rails with feet may not be the right type of bed rail for you. A rail without leg rests is also available and more appropriate for a bed with greater height.
The second bed rail type (with swing-away arm) installs with one additional adjustment step that will require a 3/32 size allen wrench to adjust the height of the locking mechanism. This will allow for the entire leg length to adjust to fit the height of your bed.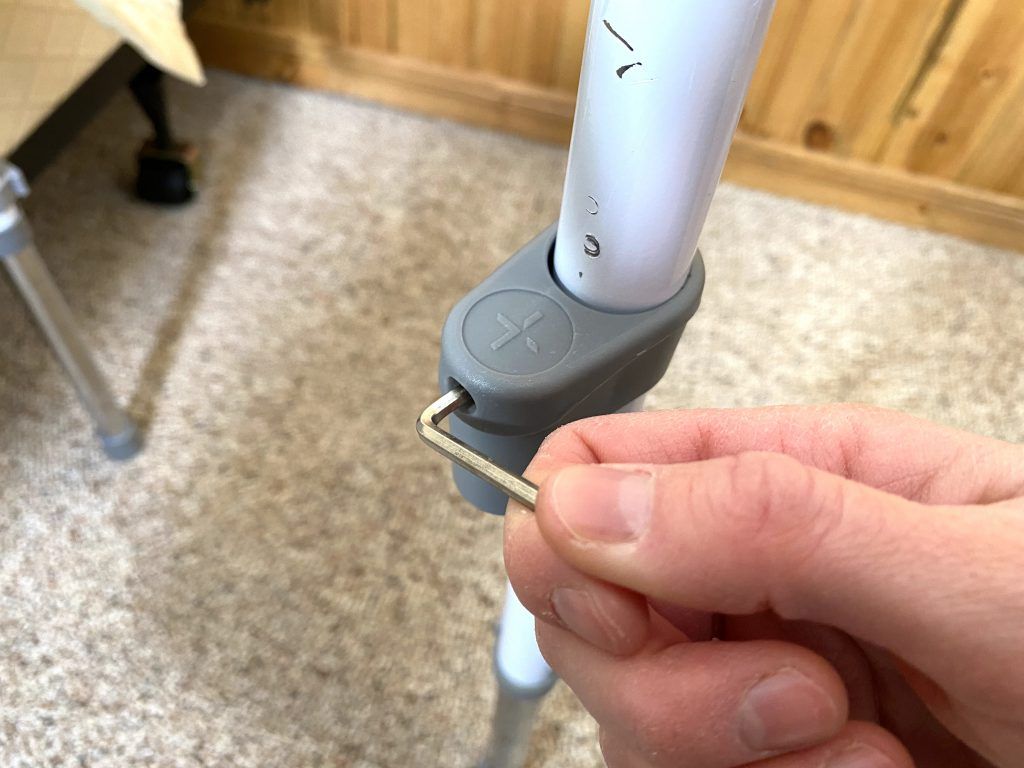 That's all the steps to install bed rails. Please remember to do a safety check before using your bed rail.
We reviewed how to install two types of bed rails, however, there are other types as well particularly for those beds without box springs. Some adult rails attach directly to bed frames. Research bed rails for the seniors if your bed requires this type of bed rail.
Note: This post contains affiliate links that provide a small commission without any added cost to the user.
---
More Recent Posts…
How to Get Dressed and Undressed After Shoulder Surgery or Injury

How to Sleep in a Recliner

If you're sleeping in your recliner, you're not alone. Many people find their recliner the most comfortable place to sleep. It's common for people who are recovering from injuries, recuperating after surgery, or suffering from chronic acid reflux to sleep in their recliners. However, sleeping in …

2022 Gift Guide

It's that time of year again! Time for the 2022 EquipMeOT gift guide! This curated list includes a variety of ideas to improve comfort, independence, and safety for you and your loved ones this holiday season! Gifts Shoulder Heating Pad Ice/Heat Slippers Multi-positional Wedge Weighted Sleeping …