So, you know you need a grab bar to prevent falls.
But maybe you don't have a wall nearby to add one. Or maybe you need a grab bar temporarily and don't want to add holes to your walls or your tile bathrooms.
Well, worry no more. I have a no-drill grab bar solution that I LOVE for these situations.
Let me explain.
Grab bars are a standard piece of home medical equipment for reducing falls and improving independence during transfers.
The biggest problem with them is the challenge of finding a place to mount a grab bar.
That's why one of my favorite grab bar systems is the no-drill security pole grab bar. This grab bar is a great option to improve flexibility of grab bar placement. This piece of equipment can be used in the bedroom, bathroom, living room, or any other space with a solid floor and ceiling! I have personally used this style of no-drill grab bar in many homes for a variety of physical limitations and have been thrilled with the results.
Installing the security pole no-drill grab bar system requires the environment to have a flat, solid, ceiling, and floor. It is possible to add screws to the floor and ceiling pieces to secure them in place, but this is not essential in most situations for the function of the equipment. No tools, aside from the wrench included with the product, will be needed during installation.
Check out my video below on my YouTube Channel EquipMeOT to see this awesome product in action!
But if you prefer written instructions, I can explain below.
Supplies Needed:
The Stander Security Pole with Curved Grab Bar (there are other types of floor to ceiling grab bars, but this is my favorite design)
Optional: Drill, drywall anchors (this will be needed if you are choosing to screw the base and top of the grab bar into the drywall)
A level
Steps:
Identify location in your home that needs additional grab bar support. **Must have flat floor and solid, flat ceiling
Assemble security pole (with extender if ceiling is taller than 7 feet)
Set grab bar in place
Tighten locking nut until ceiling and floor pieces are secure
Installing a No-Drill Grab Bar – Step 1: Identify Location
The first step is to identify the location where you would like to place a grab bar.
This grab bar can be placed anywhere in the home where a solid/flat floor and ceiling are present.
This means this particular grab bar will not work in a space that has open ceilings, drop ceilings, or angled ceilings (vaulted rooms or dormers). I recommend installing them on solid floors or very tight weave carpets as a thick, plush carpet can impact the stability of the pole and stability is crucial in a grab bar solution in order to prevent falls.
Installing a No-Drill Grab Bar – Step 2: Assemble the Grab Bar
Assembling the grab bar is the second step.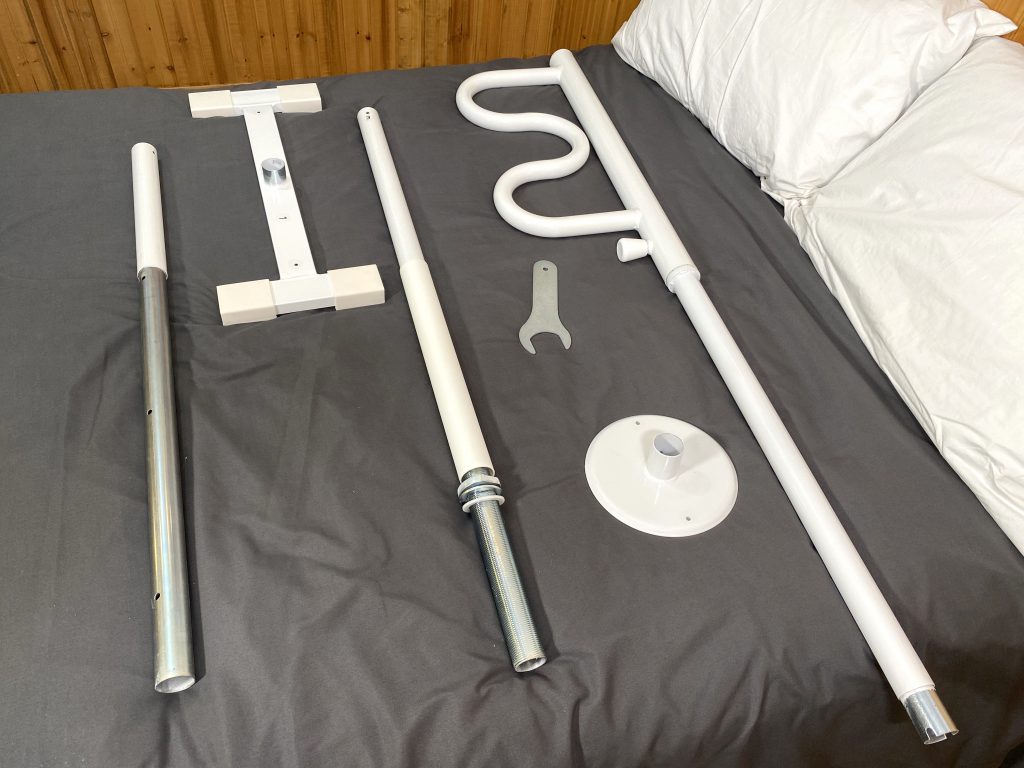 Make sure you have all the pieces before you begin assembly. Assembly of this particular stander security pole will involve placing the base or floor piece (round) on the ground and then stacking each piece on top in order.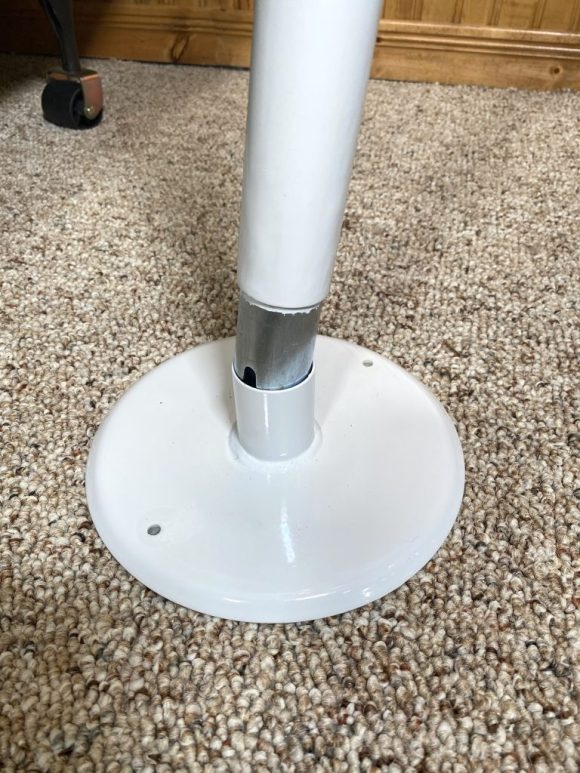 In the case of the Stander security pole, the base is followed by the grab bar piece, then the extension (only if your ceiling is over 7 feet), and then the top portion (H-shape) which touches the ceiling.
The parts come with flat sides to help align the parts as you assemble which is extremely helpful.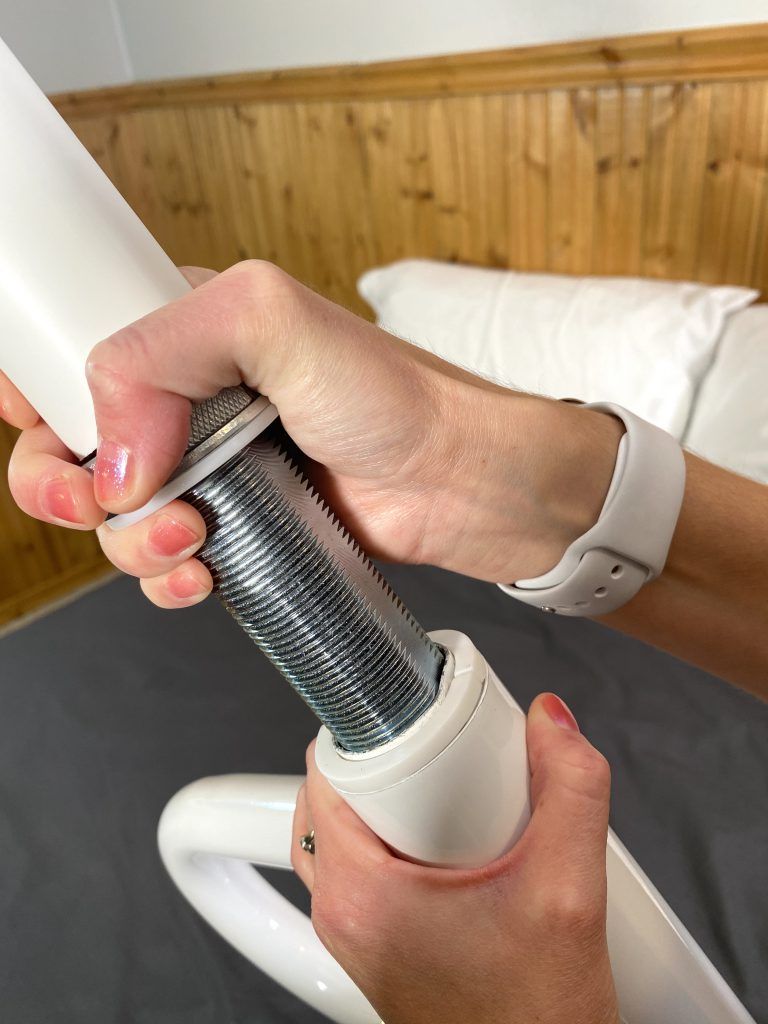 There are pins with locks to be placed at the top and bottom to secure the pieces together.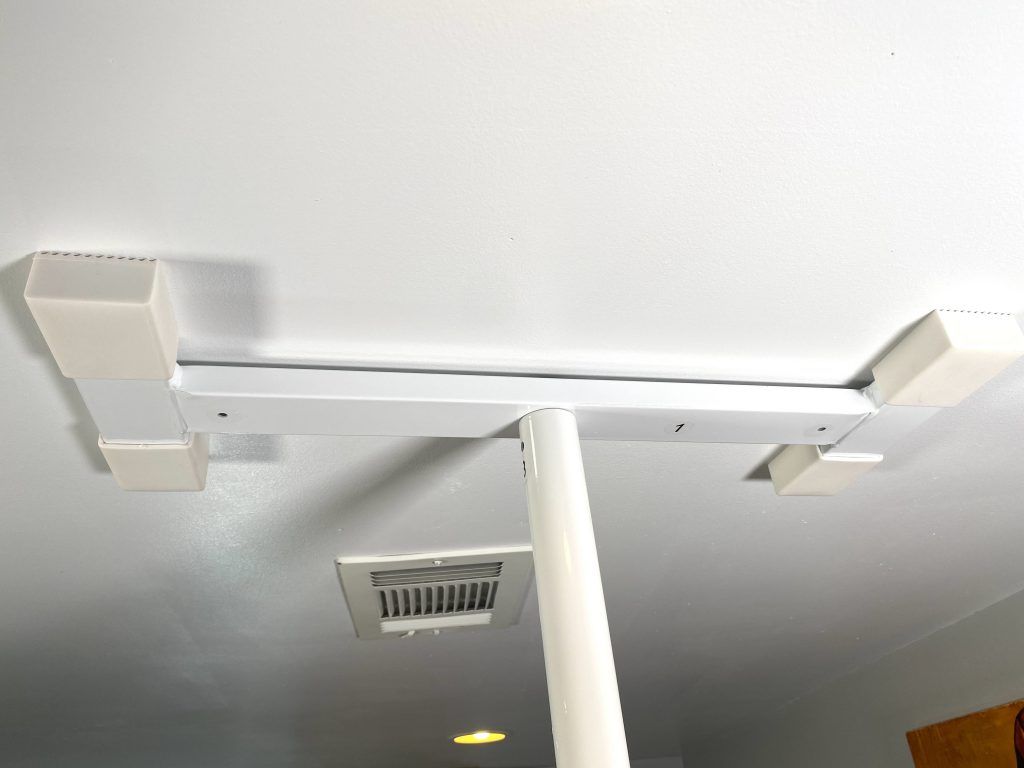 Installing a No-Drill Grab Bar – Step 3: Set Grab Bar in Place
Positioning the grab bar in place requires knowledge of how and why you will be needing the additional support.
The grab bar portion of the Stander Security Pole can rotate around its axis. The grab bar will lock into place every 45 degrees for all 360 degrees. This rotation allows for great flexibility.
Due to the pivoting nature of the grab bar, there is abundant flexibility of use. If you choose to attach the floor and ceiling pieces with screws, you will want to check for ceiling joists to drill into at this time before tightening the pole into position.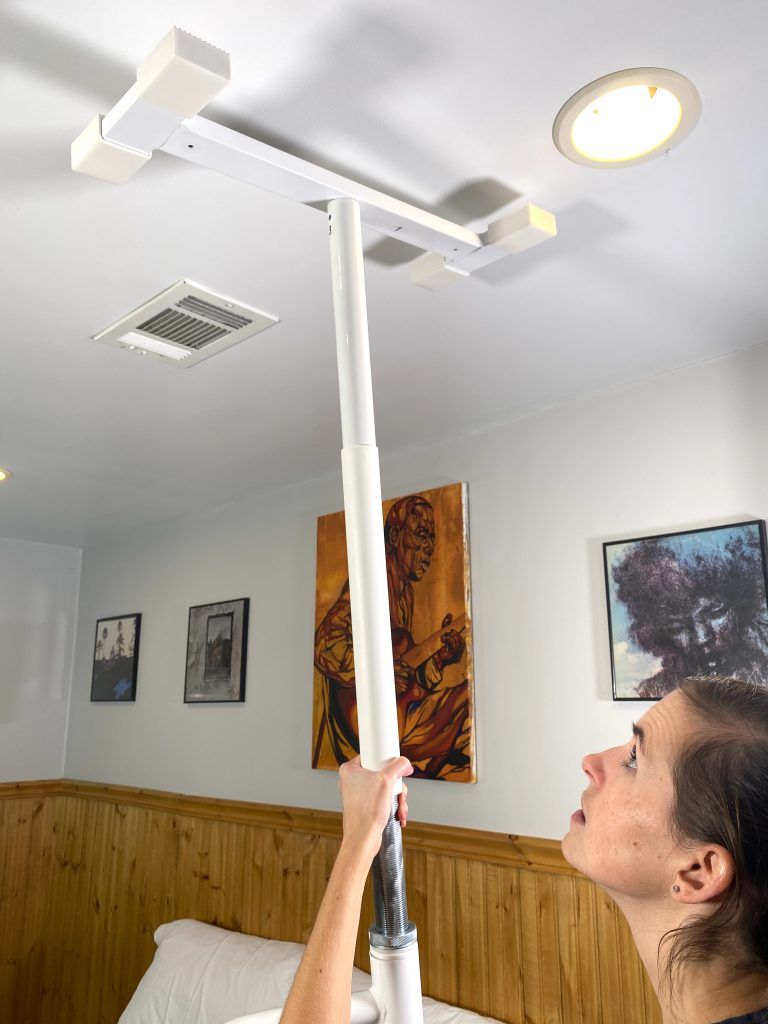 Installing a No-Drill Grab Bar – Step 4: Tighten pole into position
Using the wrench supplied by the kit, tighten the adjusting nut to push the top up and tight to the ceiling. If you have a level, you can ensure the pole is perfectly vertical and therefore most secure.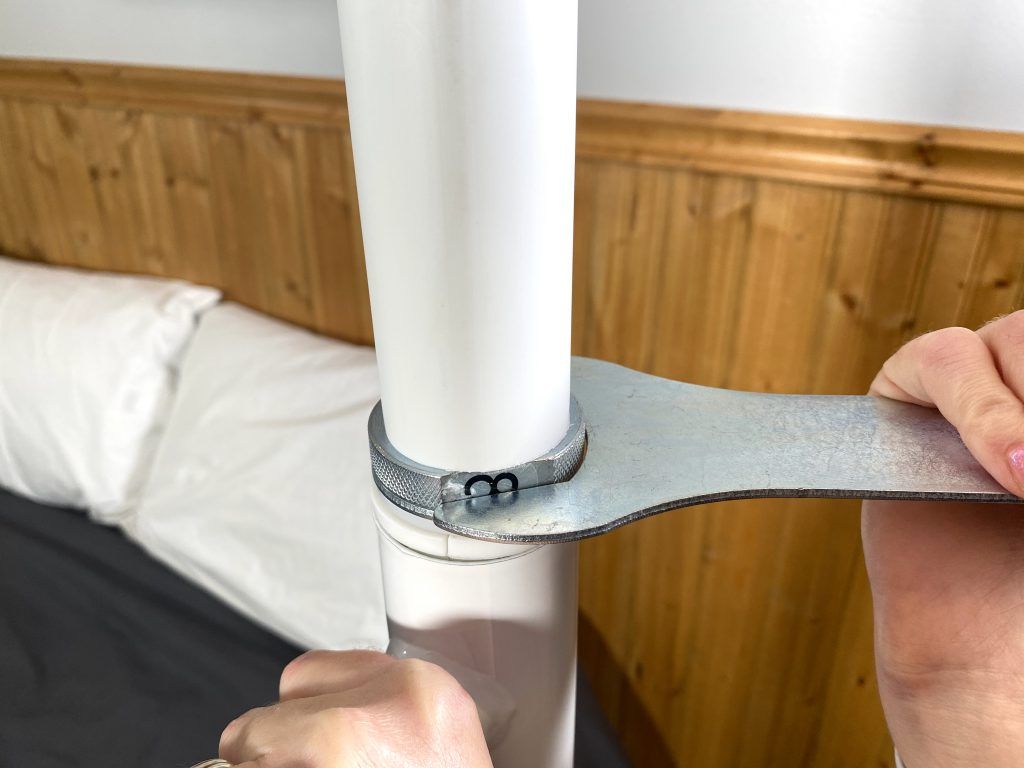 Note: If you plan to secure the pole into position using the set screws provided, I recommend you pre-mark the position on the ceiling with a pencil using the H-shaped piece. These marks will allow you to maintain the proper position to allow the screws to be placed.
That's it! That's all it takes to install. Hope you enjoyed learning about one of my favorite no-drill grab bars ever.
Note: This post contains affiliate links that provide a small commission with no additional cost to the user.
---
More Recent Posts
How to Get Dressed and Undressed After Shoulder Surgery or Injury

How to Sleep in a Recliner

If you're sleeping in your recliner, you're not alone. Many people find their recliner the most comfortable place to sleep. It's common for people who are recovering from injuries, recuperating after surgery, or suffering from chronic acid reflux to sleep in their recliners. However, sleeping in …

2022 Gift Guide

It's that time of year again! Time for the 2022 EquipMeOT gift guide! This curated list includes a variety of ideas to improve comfort, independence, and safety for you and your loved ones this holiday season! Gifts Shoulder Heating Pad Ice/Heat Slippers Multi-positional Wedge Weighted Sleeping …